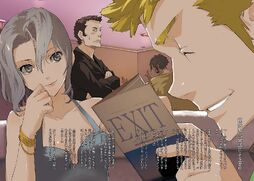 An unnamed individual, speaking with Copycat via telephone, deems Copycat's plan a half success, half failure. The individual guesses that the plan was an attempt to imitate the Flying Pussyfoot incident, proceeding to deduce role matches between passengers aboard Exit to passengers aboard the Flying Pussyfoot: Sylvie Lumiere in the role of Natalie Beriam; Nile or Denkurō Tōgō as the Rail Tracer; Elmer as Elmer and the Copycat as themselves.
However, in observing that the roles of Isaac and Miria would seem to have been intentionally omitted, the individual remarks that the deliberate exclusion of Isaac and Miria may account for why Copycat's plan failed. In the individual's eyes, the pair are tricksters, comprising a wheel of fate that imparts hope to the virtuous and the villains alike—and in the individual's opinion, winning them over would have upped the chances for a perfect success. This was a lesson the individual learned the 'hard way' back in 1935.
Who is the Copycat?
Who is calling the Copycat?
Why did the Copycat want to replicate the events aboard the Flying Pussyfoot?
What was the '1935 incident'?
Characters in Order of Appearance
[
edit
|
edit source
]
Community content is available under
CC-BY-SA
unless otherwise noted.